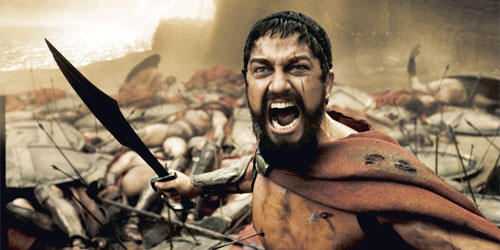 300 is the resting in the saddle movie, belive it had gathered $70.9 million on around 4,800 screens at 3,103 theaters in its opening weekend which sounds incredibly amazing. That eclipses all previous ancient battle pictures by a wide margin, including Troy and Gladiator, and ranks fifth among comic book adaptations. Dan Fellman, Warner Bros.' president of distribution said that "We felt we were going to be between $35 and 40 million,"
The $65 million computer-generated battle picture conquered the March opening record, previously held by Ice Age: The Meltdown's $68 million. It's also the third-highest grossing start for an R-rated movie, behind The Matrix Reloaded and The Passion of the Christ. 300's opening included an estimated $3.4 million from 62 IMAX venues, surpassing Superman Returns as the biggest IMAX debut ever.
Warner Bros. waged a striking marketing campaign for 300, based on the picture's hyper-stylized, digitally-enhanced look, the mythology of Ancient Greece and the high stakes premise of 300 Spartans fighting a vast army in the Battle of Thermopylae, replete with passing references to freedom to recall past audience favorites like Braveheart and Gladiator.
Ofcourse the success of 300 it wouldn't have occured except for its succesfull scenes of animation and the expetise of the professional hardworking team and their success will last forever.
Thanks for the computer animators and Animation programs and especially the complicated MAYA for developing such great movies.
Khaled Zaki

Forum Admin